About Me
Or...How to Hate Exercise and End Up a Fitness Instructor
By Paul "Batman" J.O'Brien 

B.A., N.C.E.H.S., Dip. Acu., Cert Clin. IMed., Dip. Adv. OBB, Dip. CHM, M.AFPA., M.C.Th.A.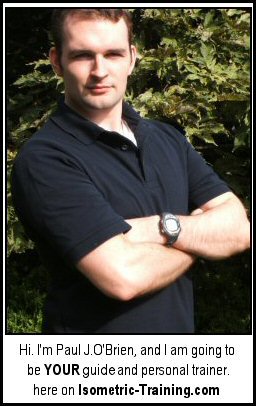 This page is about me - Paul J.O'Brien, and I built this website, Isometric-Training.com. Although I write perhaps a dozen articles a day on fitness, martial arts and more, when I came to write this section of my website, my own story, I didn't know where to begin.
Through this website I hear so many wonderful stories of failure becoming success and tragedy turning to triumph. I've gotten to know many of you, and I thought I would let you know something about me. Don't worry, I won't bore you with my life story, but I would like to share with you a couple of my high points, particularly those relating to health, fitness and this website.

As many of you know, I'm a fitness instructor here in Ireland. What many of you don't know is that I absolutely HATED sports and fitness for years. I loathed exercise and my best friend was a Nintendo games console and the TV. I was a short, weak kid, that never got picked for sports and who occasionally pretended to be sick to get out of PE class.
I liked books. I liked reading and doing my homework. I was a nerd…and in many ways I still am.
It all changed for me when I started getting badly bullied in school. I was sent by to a martial arts school, to learn Shotokan Karate. This was my first introduction to the world of fitness – and I became obsessed. I loved the martial arts, not just for the physical aspects but the mental discipline and strength it developed. I trained daily, for hours, before and after school, even in secret during lunch breaks.
In a little over a year I had become a different person. I stood tall, I was strong, fit and for the first time I had muscles. It was also the first time I became confident in myself as a person. I can safely say that Fitness and Martial arts made me the man I am today.
A Transforming Tale
Many years later, when studying for my BA in University College Dublin fitness lead me down another path. I was just learning about weight lifting and cardio vascular training in order to improve my martial arts skills. I wanted to be faster, stronger, more muscular, fitter and more flexible so I spent my time testing new methods and the latest theories in the college gym.
This is where I found my calling. Through my trials and tests I discovered effective ways of working out and soon was coaching others, from college athletes to the aspiring actresses of the drama society. More importantly, I discovered how much I enjoyed training people and seeing people go through the same amazing transformation I had, when they found all the incredible benefits fitness brings.
So I graduated from UCD and became a fitness instructor and personal trainer with additional qualifications from the National Training Centre of Ireland. I soon got a job with one of the most exclusive gyms in Ireland – and that's where the nightmare began. 
Taking the time to exercise after climbing the Zugspite Mountain, 9,721 feet high. (Did I mention I'm scared of heights?)
The Dream Job – Becomes a Hellish Reality
Fresh out, full of energy, and ready to learn I became a gym instructor…and slowly had every last ounce of enthusiasm crushed. I quickly found out the gym I worked for cared about 24 carat gold platted showers, and not customer service. They cared about real leather foot stools, not results and they cared about profits over people.
Between being ordered to do mass inductions where you introduce 30 people at once to 1 machine (not a nice idea) and being told off for talking to members about improving their programs, results and generally doing my job - teaching people to become fitter, healthier and happier – I realized that the gym wasn't the place to get healthy.
So I quit and started my own personal training business, where I could spend quality time with each person that I trained and made sure to get the results they wanted. I loved it…but there was just one problem.
I didn't have enough time in the day….
to train all the people I wanted. I was working flat out every hour…and trying to find better ways to train my clients, to save them time and money, as well as finding the best way to train myself. I went back to the beginning, the early days of physical culture and made an incredible discovery – Isometrics.
I studied hard, tested and experimented on myself and my clients, ate up every old manual and training guide I could find, and found a system so effective you could finish each exercise in as little as 7 seconds! How's that for a quick workout!
Not only was it quick – it was intense and the results were amazing. My clients put on more muscle and lost more fat faster than any of us thought possible…and it got even better!
In only 7 Weeks with just seconds of exercise I added over 30lbs of lean muscle to my frame while developing incredible strength – in fact I became so strong I can lift a grown man over head with just one arm!
I then took the training knowledge that transformed my physique, and the bodies of my clients and created a 7 Week System called 7 Seconds to A Perfect Body, The Scientifically Proven Method for Transforming Your Body in Just Seconds! Over 250 pages and filled with more than 100 photos it was a launched in January 08 to huge success. You can read more about the program and see my incredible transformation, even watch videos of my strength feats HERE.
But I was left with a problem, "How could I share Isometrics with as many people as possible…the answer it turns out was with 3 little letters – SBI!"
SBI – three little letters that spell freedom
I had tried building a website before, two in fact without any success. I was useless at writing web code, I didn't get html and the poor excuse for a website I put up didn't see any visitors. Sure it had great info, but no one ever saw it. There was no traffic and it was costing me a fortune. That was before Site Build It. Now in only a few months Isometric Training is in the TOP 1% of ALL WEBSITES. That's over 58 million and mine is at the very top. Check out my Alexa ranking (basically where my page lands out of the 58 Million!) 

I have thousands of visitors learning about Isometrics and now train people just like you in over 58 countries with online personal training! If that wasn't good enough, I'm making a great income just from this website thanks to advertising and affiliate programs like Google Adwords.
All thanks to a little elbow grease and Site Build It. The great thing is everyone can do it. And yes, that includes you. Whether you are an inexperienced web designer or complete beginner (like me) you can succeed in building a profitable, lucrative passive income with nothing more than SBI and bit of hard work.
I'm not an isolated case either. Hundreds of SBI users get results like mine – even better, and it's not just in fitness. Anything you can imagine or have an interest in you can share with the world ….and make a great income from. Just take a look at all these incredible successes! Click Here.
So that's it – my story.
Thanks to an early introduction to martial arts I've become a qualified expert in health and fitness, with too many qualifications to count (I'm also a qualified Acupuncturist, Traditional Chinese Medical Practitioner, Clinical Medic and A Reality Based Personal Protection Instructor)…okay perhaps I'm a bit over-qualified… (I don't think so. I'm constantly on the look out to learn more so I can bring you the latest news and techniques).
I have a successful website thanks to readers like you and Solo Build It and I'm not stopping there. My goal now is to provide you with the best information available in the world of health and fitness, and if you'll let me, help you to reach your goals using my proven methods.
I wish you all the best,
Your Isometric Expert, Personal Trainer, and friend, 

---


---
Finished Reading About Me? Then Check Out my Articles