Weight Loss Before and After
Why What you See, isn't Always What You Get
By Paul "Batman" J.O'Brien 

B.A., N.C.E.H.S., Dip. Acu., Cert Clin. IMed., Dip. Adv. OBB, Dip. CHM, M.AFPA., M.C.Th.A.
Weight loss Before and After Photos, are perhaps, the major aspect of any weight loss website, and definitely the major focus of any weight loss sales page. And most of those fantastic photos you see are faked. Now, I'm not taking about huge digital re-editing but the simple things – lighting, a tan, and dehydration and "carbing up" (a dietary method where you take in a lot of extra sugar that is pulled into the muscles increasing their size temporarily).

Depending on the lights you can completely change the appearance of muscle definition. A single overhead light source creates a deeper set of shadows under the muscles, thus making them appear bigger and more defined. The same can be done to achieve a slimming effect in women.
As regards tanning – a good tan can increase muscular definition by as much as 20% per shade. A tan, fake or not darkens the skin, again producing a more defined and muscled appearance. It is also more visually appealing and making you appear slimmer. Of course you can use cosmetics to increase the muscle outlines and in essence draw them on, thus hugely increasing the effect.
Finally advanced fitness competitors such as bodybuilders and physique models use a very hard system of extreme dieting over a few days to help showcase their bodies at their best for the Weight Loss Before and After pictures. Generally this is done over several days and involves a period of heavy carbohydrate reduction, followed by water dehydration. This removes excess fat and moisture from the skin substantially increasing muscle definition.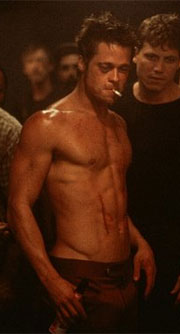 Weight Loss before and After photos are often helpful for motivating you to exercise and proper diet. They can sometimes give you a rough guide as to what you want to achieve – for instance – most guys at one point wanted to look like Brad Pitt in Fight Club - Big shoulders and a wide muscular chest with a small lean ripped waist. That's great if it motivates people to get in better shape, but problems can arise because it is in many ways an unrealistic example.
Brad was under specific lighting to emphasize his muscles and low body fat. He was in make up and had cosmetic tanning to further improve the look. Finally each scene was posed to highlight his strongest look. For many people, especially young guys starting out they want that look, kill themselves in the gym and fail to achieve the look. Sure they make gains, but it often doesn't look right. So they quit.
Weight Loss Before and After Photos are great for helping you identify those aspects you want in yourself – but understand how they would work on YOU nor someone else is the critical thing. I might want to look like Bruce Lee, but I'm 3 inches taller, my shoulders are broader and I'm stockier in appearance. I'll never look like Bruce Lee – BUT I can replicate the attributes that made Lee look spectacular – Hard muscle and very low Body fat. That way I can look the best FOR ME.
So don't stress out if you aren't as slim as the model in the magazine, if you don't have the arms of some guy on the cover of Men's Health – the real world of day to day life probably doesn't either.
Use Weight Loss Before and After photos to help you identify how you want to look – then focus on the those attributes that exemplify it. The best way to do this of course – is follow a diet and exercise program that you KNOW gets results. The one I recommend is Burn The Fat, Feed the Muscle by Tom Venuto. If you really want to look like your favorite After Photo then Tom's program is the one to follow.
---


---
Weight Loss Before and After photos can reflect real results – read more articles here.