The Secret of Weight Loss
It's Simple - But its not easy....
By Paul "Batman" J.O'Brien 

B.A., N.C.E.H.S., Dip. Acu., Cert Clin. IMed., Dip. Adv. OBB, Dip. CHM, M.AFPA., M.C.Th.A.
Weight Loss is a simple subject in theory and difficult for many in practice. With thousands, probably millions of diet books, super magic slimming pills and a gluttony of greedy supplement companies preying on peoples ignorance, losing weight has become one of the biggest businesses of this century.

And people are fatter than ever.
If all the pills and fad diets really did work, why is obesity classified as a national epidemic? If the latest supplement blasts fat like it claims why isn't every overweight person on it?
It's because they don't work. It's a load of rubbish. 

Weight loss is simple – but it isn't easy. I'm going to tell you that upfront. If you're looking to lose weight, but want to be a size 8 tomorrow or drop the excess fat for a wedding in a month and have 6 stone to lose, and expect a slimming shake to do all the work for you, I'm sorry this isn't the website you want. If on the other hand you would like to make a difference in your life and lose weight in a sensible and healthy manner, I welcome you with open arms. Read these articles to find out more about how simple weight loss is and how you can start losing weight today.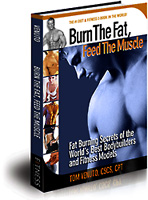 Everything you need to know about losing weight is here, the best programs, the best exercises, the best foods, sample meal plans and proper nutrition advice. I HIGHLY recommend Burn The Fat, Feed the Muscle by Tom Venuto.
This program is the corner stone of my own nutrition plan and I recommend it for ALL my clients. more about Burn the Fat, Feed the Muscle - here I encourage everyone to pick up a copy.
In order to help you know what you need to do to succeed and achieve your weight loss and keep it off, I've written a series of articles to explain all the details.Tom has also written a great deal of information about his approach to realistic and effective weight loss and I've given him his own section.
Read the articles below - Each one is tailored to be interesting, informative and concise. You don't have time to waste reading lengthy boring scientific reports, and I don't have the time to write them. So instead I'll give you the facts and formulas in a clear, concise and interesting manner. Get started NOW and you'll get to your weight loss goals quicker. If you're looking to lose a few stone, or just those few stubborn last pounds, you'll find the answers here.
---
Articles by Me - Paul J.O'Brien
Weight Loss Motivation -Maintaining Motivation is easy with the secrets of top personal trainers
Walking for Weight Loss -Slow and steady is the key to long lasting weight loss
Running for Weight Loss -Advance Your Fitness Progress and Quicken the Pace to Shedding those Last Few Pounds
Weight Loss Tea -Can you really just drink away the pounds?
Quick Weight Loss -How Fast is Fast Enough and is it Worth the Health Risks?
Predicting the Plateau -Plateaus are not a failure – they are simply the platforms upon which success is built.
Body Fat Percentage -How just 1 or 2 digits determine how hot you look!
Weight Loss Story -A rare story of successful weight loss
Simply Weight Loss -Nothing More, Nothing Less...Right? Wrong!
Weight loss Before and After -Why What you See, isn't Always What You Get
---
Articles by Tom Venuto
Everything You Need To Know About Loose Skin And Weight Loss -If you're extremely overweight or if you've been extremely overweight in the past, then you know that getting rid of excess weight is only one of the challenges you face.
Banking Calories - Eat Less Now To Pig Out Later?
Don't Be A Big Loser - Why You Should Say No To Quick Weight Loss

How To Lose 20 Pounds Really, Really Fast - (This is one of my favorite articles by Tom - cracks me up every time I read it - Paul).

Don't Be A Big Loser - Why You Should Say No To Quick Weight Loss

Did You Inherit Fat Genes? - The Truth About Biology And Body Fat

The Glycemix Index (GI) - Key To Fat Loss Or Just Another Diet Gimmick?

The Truth About Counting Calories And Weight Loss - Do calories matter or do you simply need to eat certain foods and that will guarantee you'll lose weight? Should you count calories or can you just count "portions?" Is it necessary to keep a food diary? Is it unrealistic....

Health And Fitness Is Not A 12-Week Program Not long ago, one of the members of my health club poked her head in my office for some advice....
---


---
Skip lightly from Weight Loss to the Articles Page