Free Ebook Training Guide
Body Ball Blast - Your Guide to Rolling to Health
By Paul "Batman" J.O'Brien 

B.A., N.C.E.H.S., Dip. Acu., Cert Clin. IMed., Dip. Adv. OBB, Dip. CHM, M.AFPA., M.C.Th.A.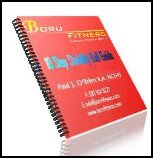 You can get Your FREE Ebook Body Ball Blast - Your Guide to Rolling to Health when you sign up for 7-Seconds to Strength, the Isometric Ezine. You'll also get access to a private page where you'll be able to access a whole truck load of bonus - Free Isometric Exercise Books, Previews of Perfect Body and Project Dragon, Case Studies, Isometric Results shots, Special Reports, and EXCLUSIVE ISOMETRIC INSTRUCTIONAL VIDEOS!!!!

I was in a discussion when an enthusiastic beginner asked if Stability / Balance Ball training was any good. I recommended it as an excellent form of training and thoroughly encouraged him to give it a go. Then several "hardcore" fitness enthusiasts set upon me for misleading, subverting and perverting exercise! I won't reiterate some of the comments made, but I and many others were shocked by the misinformation and the violent manner of these individuals.
Get Your Free Ebook Below or Read On for More Details....
It was about this time I realized that despite Stability Ball trainings increasing popularity, both in the fitness industry, extending from the average gym goer like my mother to top celebrities, and that a great many people were misinformed about both the benefits and drawbacks of on the Ball training. 

I was one of the first instructors in Ireland to earn recognized certification in Stability Ball training, and taught both Public and Private classes in some of the most exclusive gyms (and homes), in Ireland. I knew the history, physiology and methodology of Stability Ball training, but the most important thing I knew was that people who would not normally exercise or train in fitness would do a Stability Ball workout, LOVE IT, and come back for more! 

Okay, so my clients and I know the benefits and how great stability ball training can be, but what about everybody else? What about people like that initial enthusiastic beginner, who are interested but don't know the exercises, the correct body positioning and the hidden tips and tricks that provide the maximum benefits in the minimum of time? 

Well, here is my solution. I've written a free ebook, an introductory training manual containing one of the incredible routines I use with my clients to achieve their goals in record time! Inside you'll find information on the history and development of the Stability Ball, the methodology behind it, in depth analysis of a variety of techniques and exercises for every body part, complete routines for the beginner, intermediate and advanced student, variations and adaptations of techniques, utilizing simple bodyweight, and because I can't be there to show everyone how to use one, I've provided full animations illustrating the correct body movement and positioning!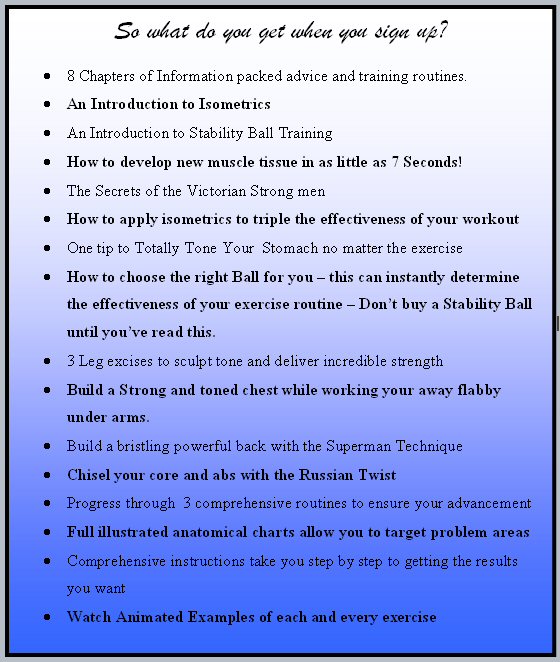 Get Your Free Ebook Now by Filling Out the Form Below
System Requirements:
* Windows 98SE, 2K, ME or XP * Internet access
Please note that Body Ball Blast is not Mac compatible. 
---


---
Leave Your Free Ebook and Check Out More Free Info at the Articles Page